From our community to yours – Welcome to CrossFit Amesbury!
CrossFit Amesbury is a family-owned affiliate whose objective is to raise awareness about fitness, nutrition, and a healthy lifestyle. It is our goal to become an integral part of the community with CrossFit as the common thread. We are committed to developing and nurturing all of our members, and to helping them embrace a lifestyle that we know changes lives. Everyone has the potential to be the best they can be physically, mentally, and emotionally. We want to be there to help you tap that potential and make it a reality.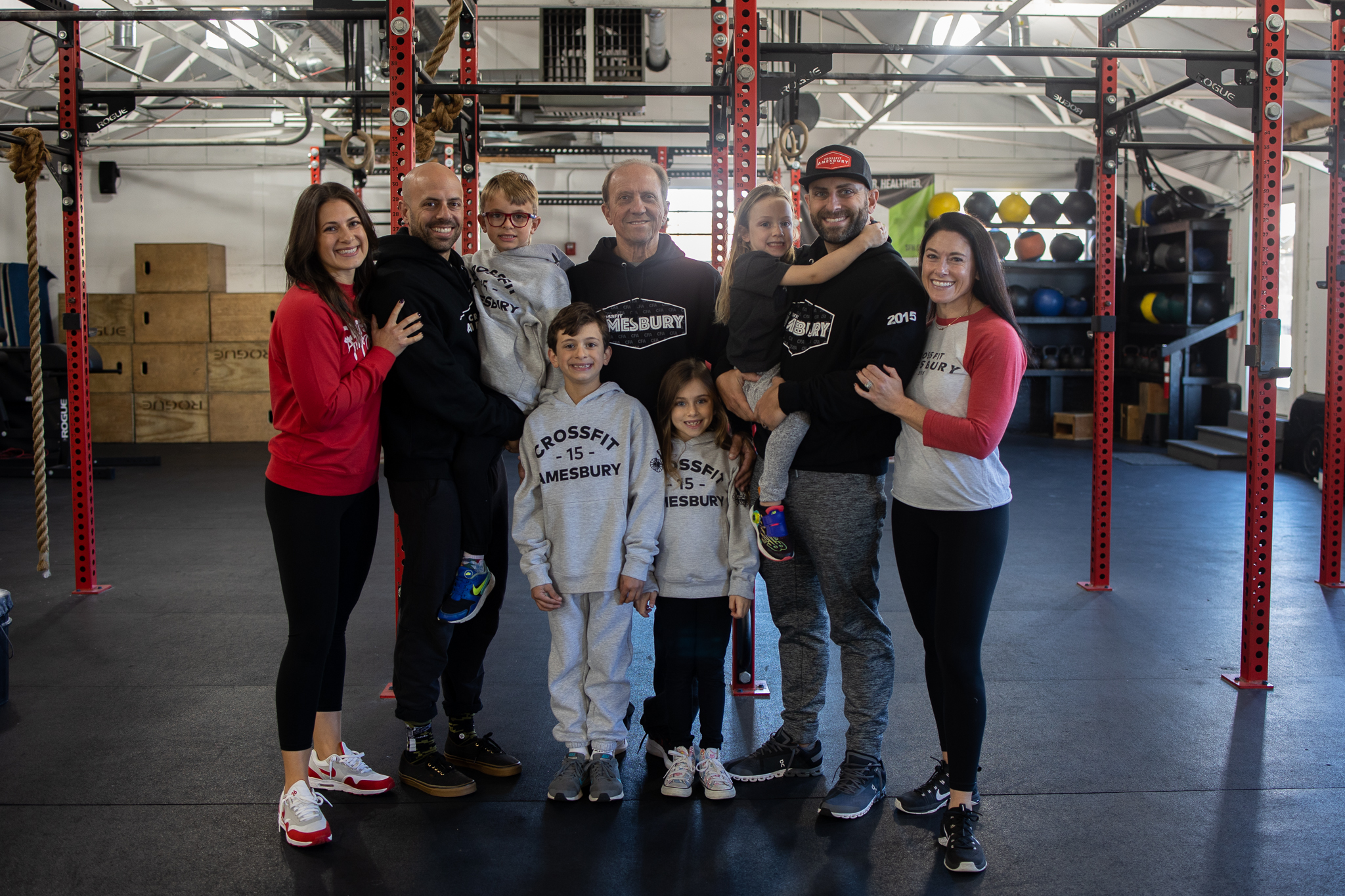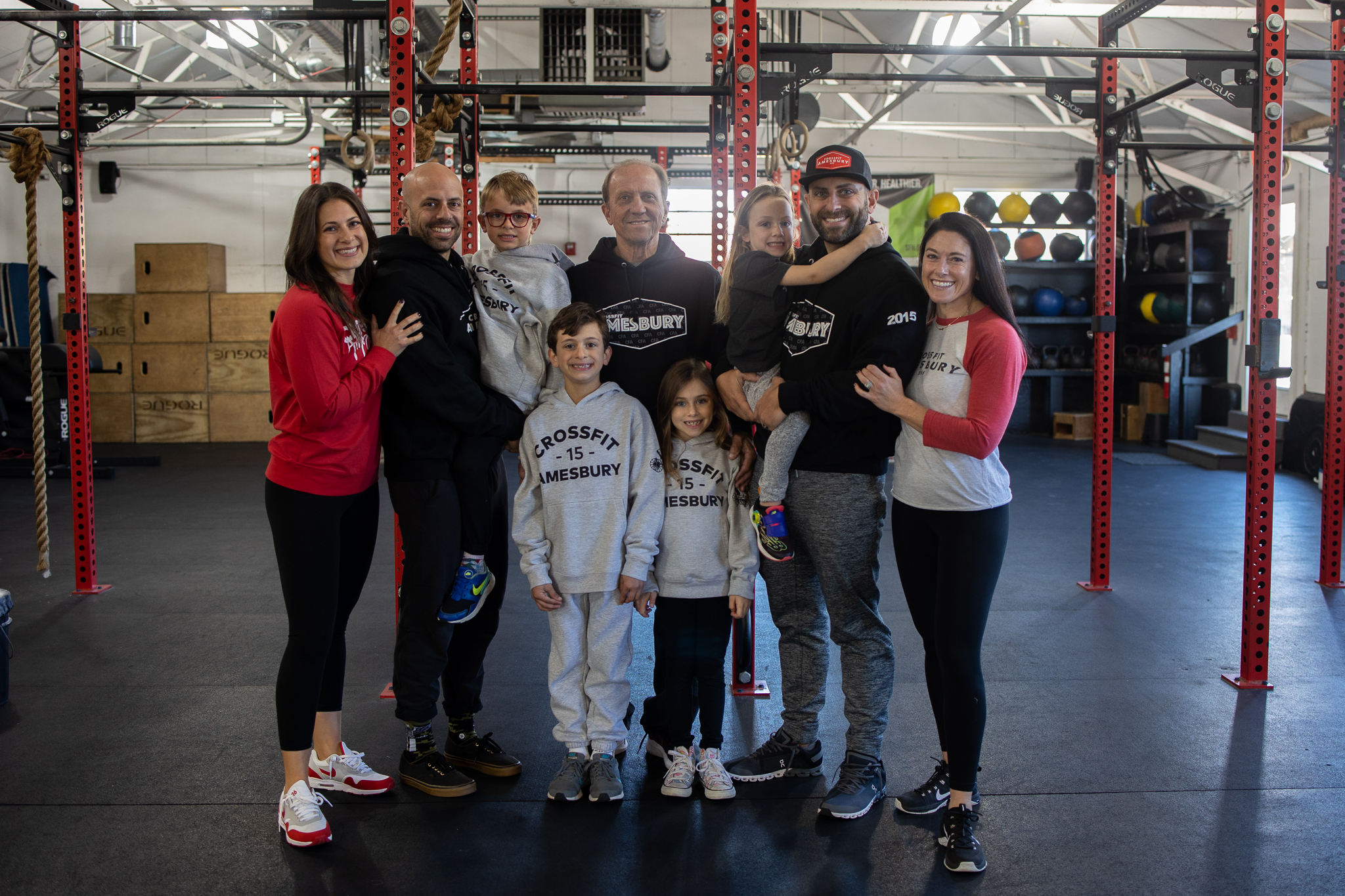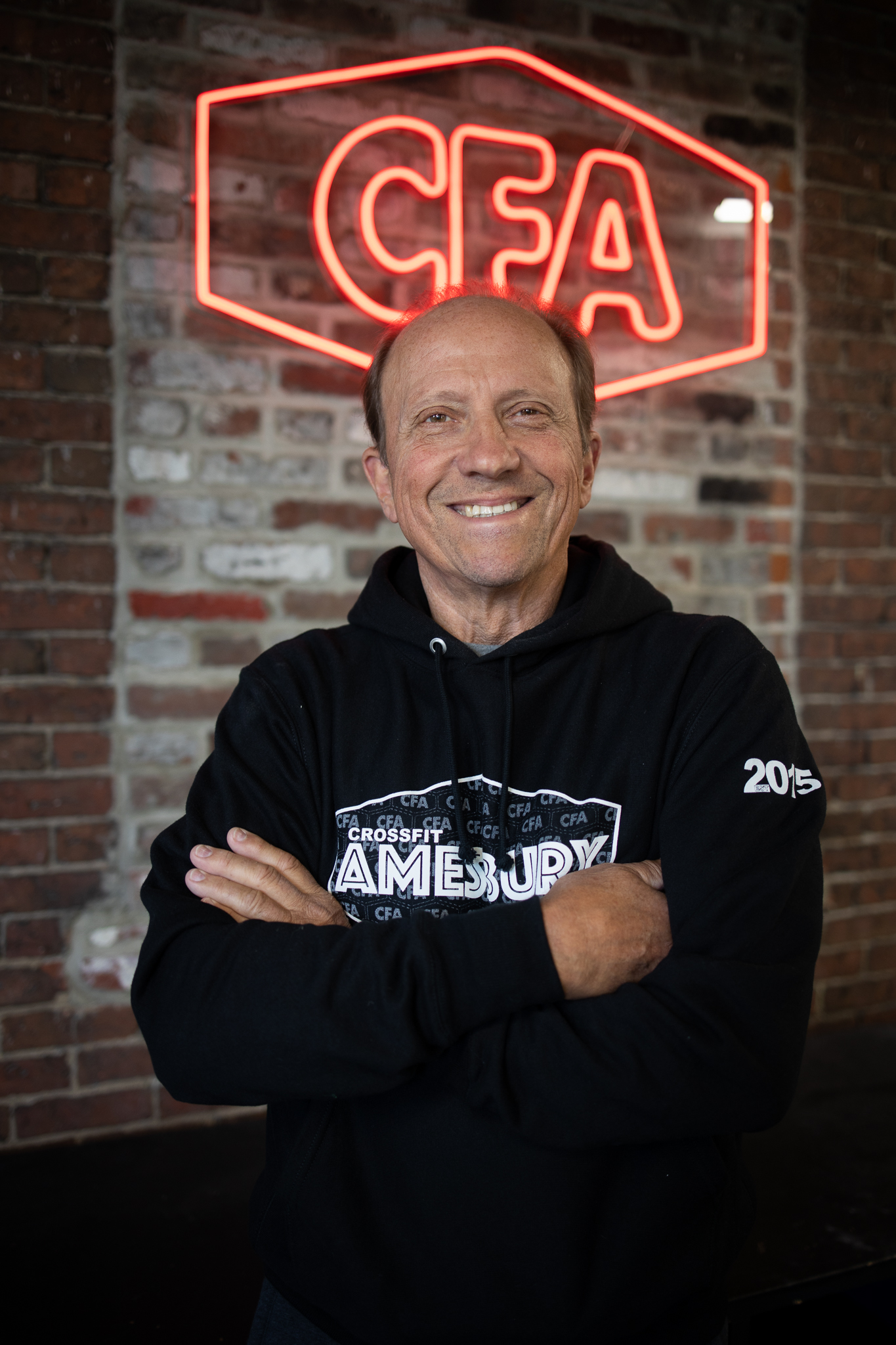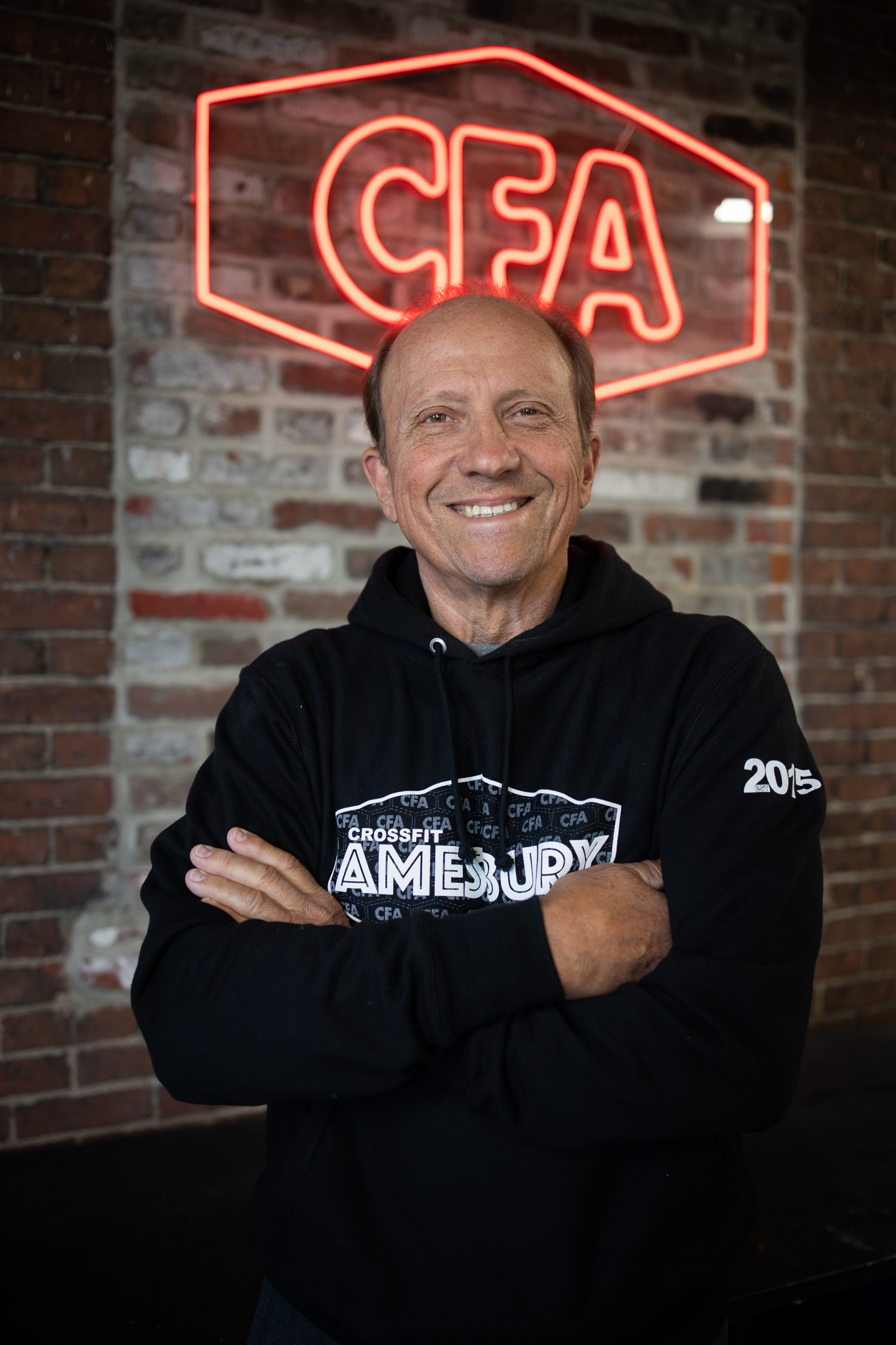 Dennis Monaco
Co-Owner & Coach
Dennis began doing CrossFit in 2010 when his son, Jared, opened his first box (CrossFit Route 1) in Saugus, MA. It was instrumental in changing the way Dennis approached his overall view of fitness and nutrition. Dennis was active in soccer most of his life so he understood the importance of staying active. He owes much of his good health today to the changes he made back then. This was his inspiration for attaining his CrossFit Level 1 certificate.
Certifications
CrossFit Level 1
Interests: Golf and woodworking
What's the most inspiring part of your job? Being a cheerleader.
Why CFA? Not to sound cliche but it's the community.
Superpower? I want to be able to fly.
Favorite WOD? Anything with power cleans or snatches (excluding thrusters).
Favorite Quote? "You don't know what you don't know."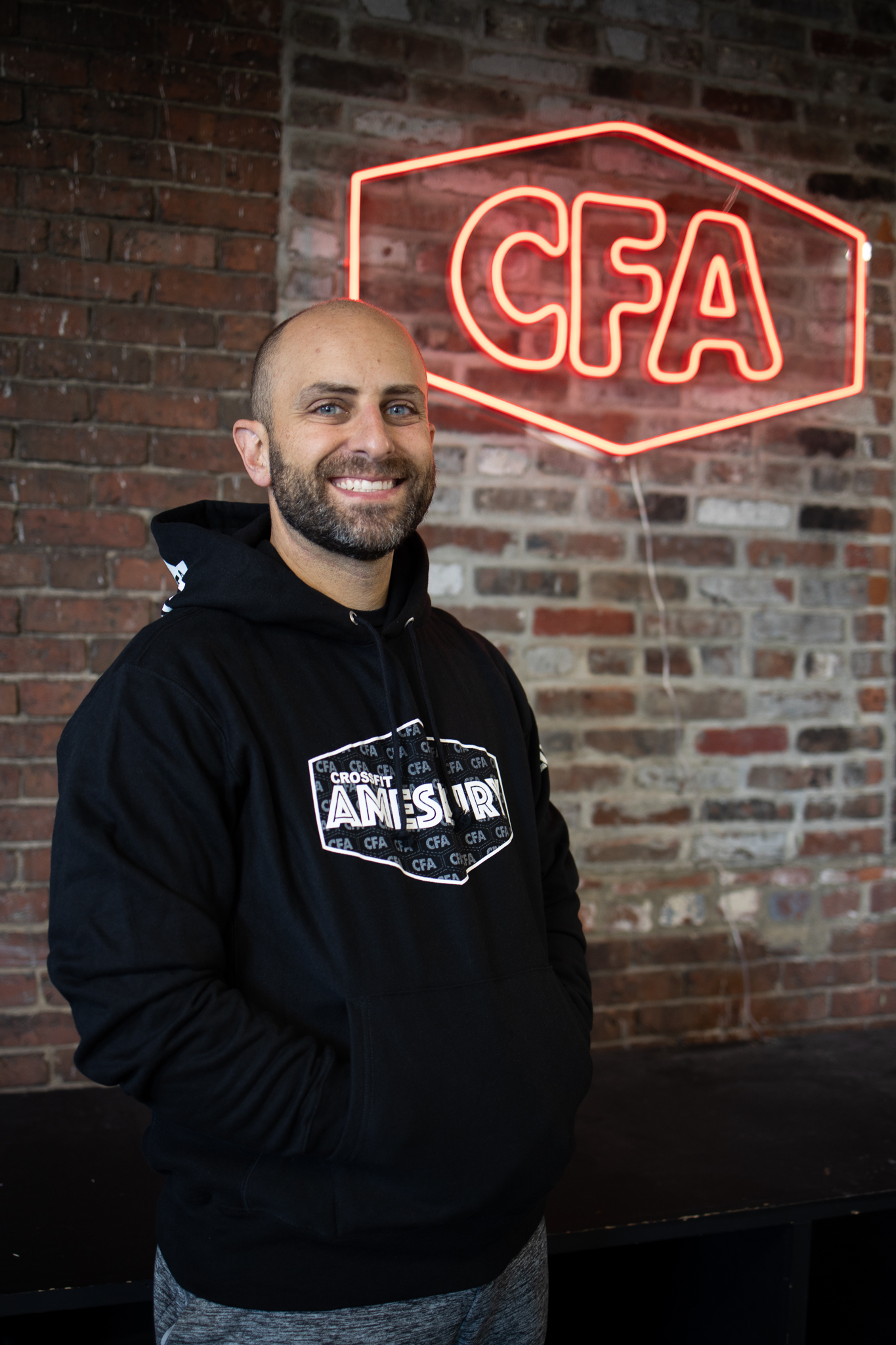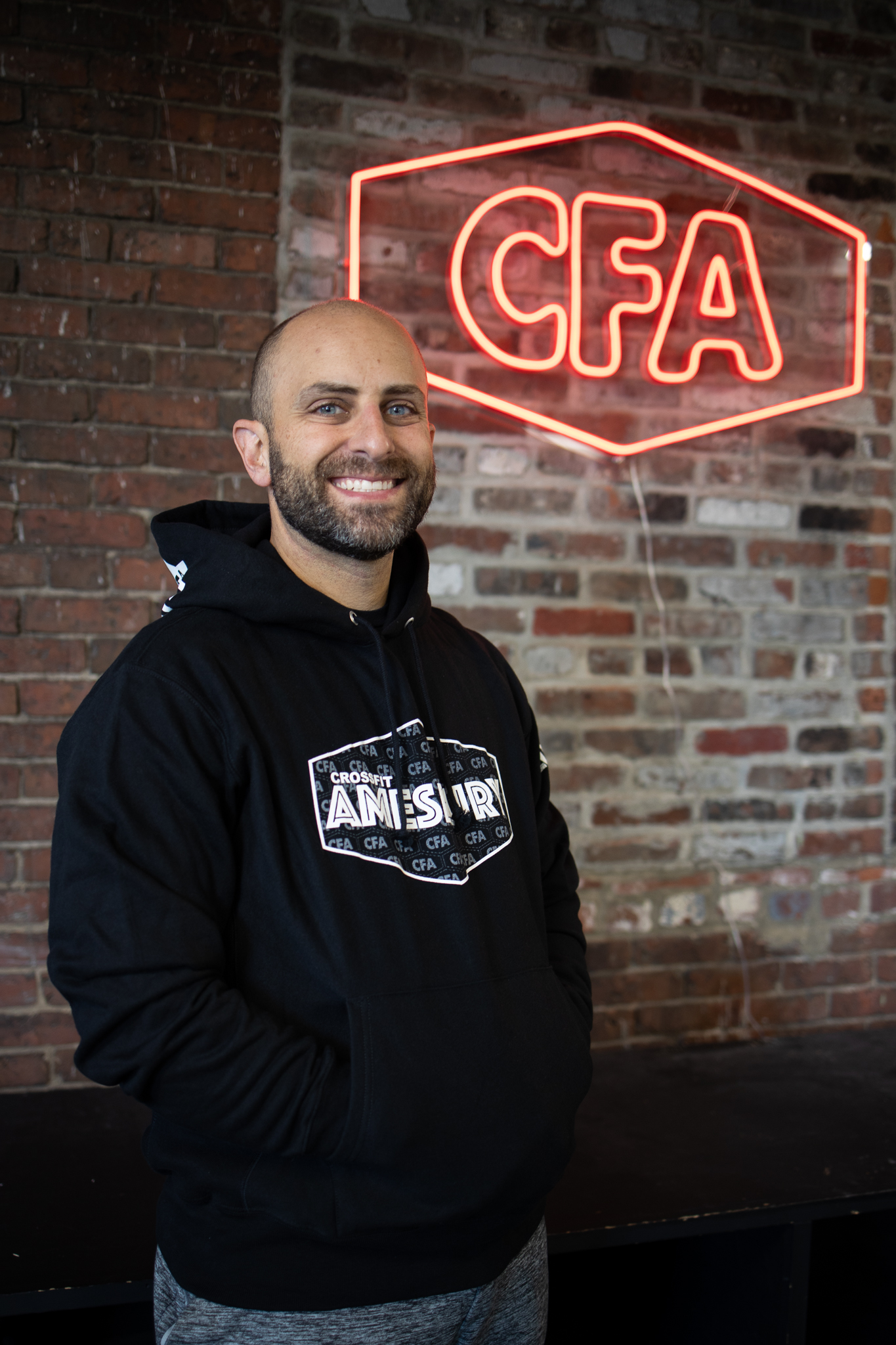 Braden Monaco
Co-Owner & Coach
Braden's CrossFit journey started in 2011. It was love at first class. As a collegiate athlete, team sports have always been a part of his life. As soon as CrossFit Route 1 opened, his view of fitness and new found love for fitness was started. CrossFit quickly became a huge part of his life and existence. Braden submerged himself in competition (competing anytime he could, including CF Regionals 2012/2013), the camaraderie, the lifestyle, and the community. The single most important part of CrossFit to him is the community and how life changing it is for those that dedicate themselves to the process. After submerging himself into the sport, he quickly realized he wanted to help others experience what he was experiencing. From that desire, CFA was born.
Certifications
CrossFit Level 2
CrossFit Level 1
Interests: Working around my house and yard, hanging with friends and family, entrepreneurial activities!

What's the most inspiring part of your job?Being able to provide a facility for people to grow, thrive and maintain their health.

Why CFA? Community, People, Passion and Purpose
Superpower? Not sure. something about work capacity… and helping others.
Favorite WOD? Anything with wall balls and hang cleans!
Favorite Quote? "Perseverance – Continuing a course of action without regard to discouragement, opposition or previous failure."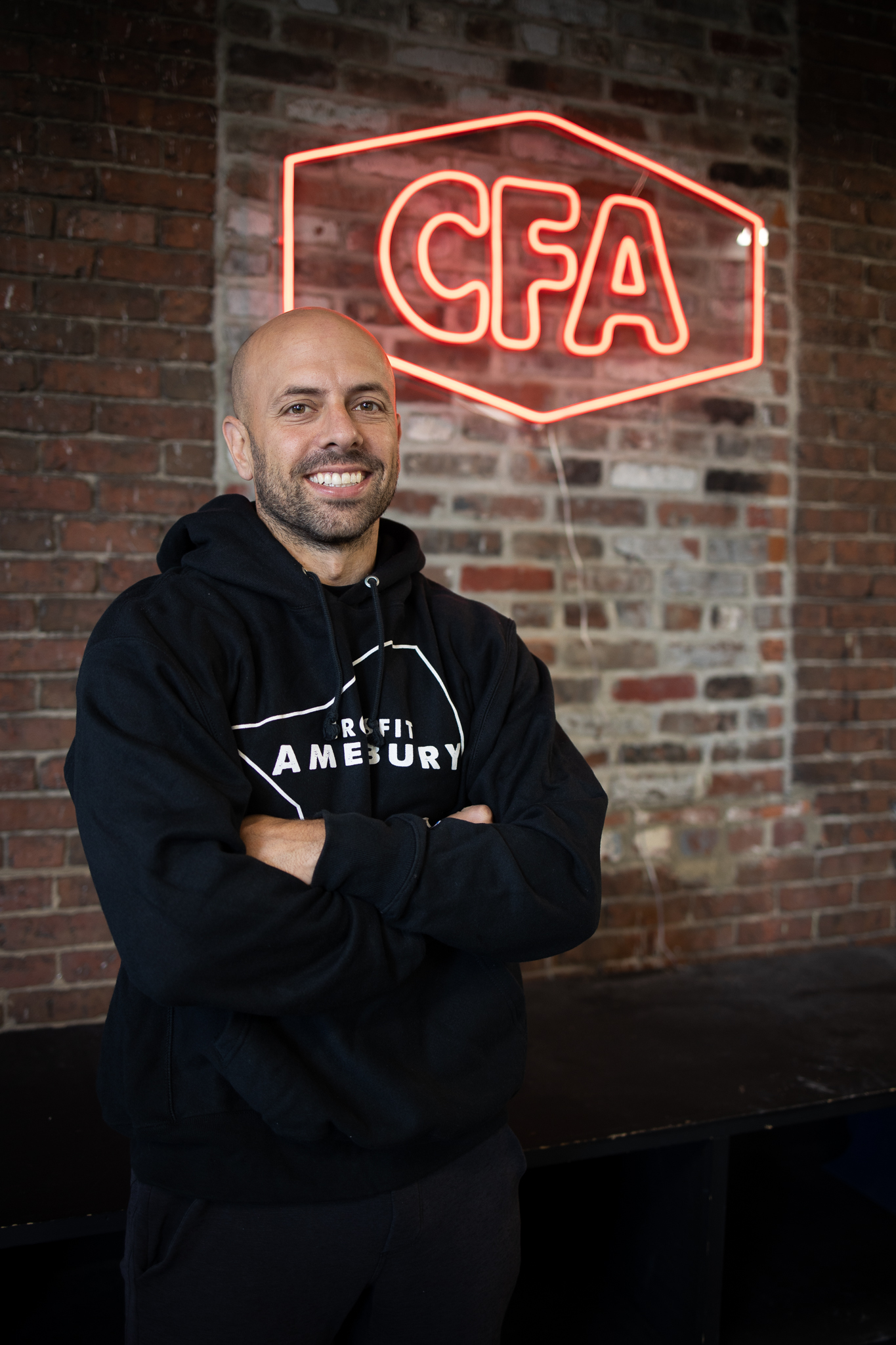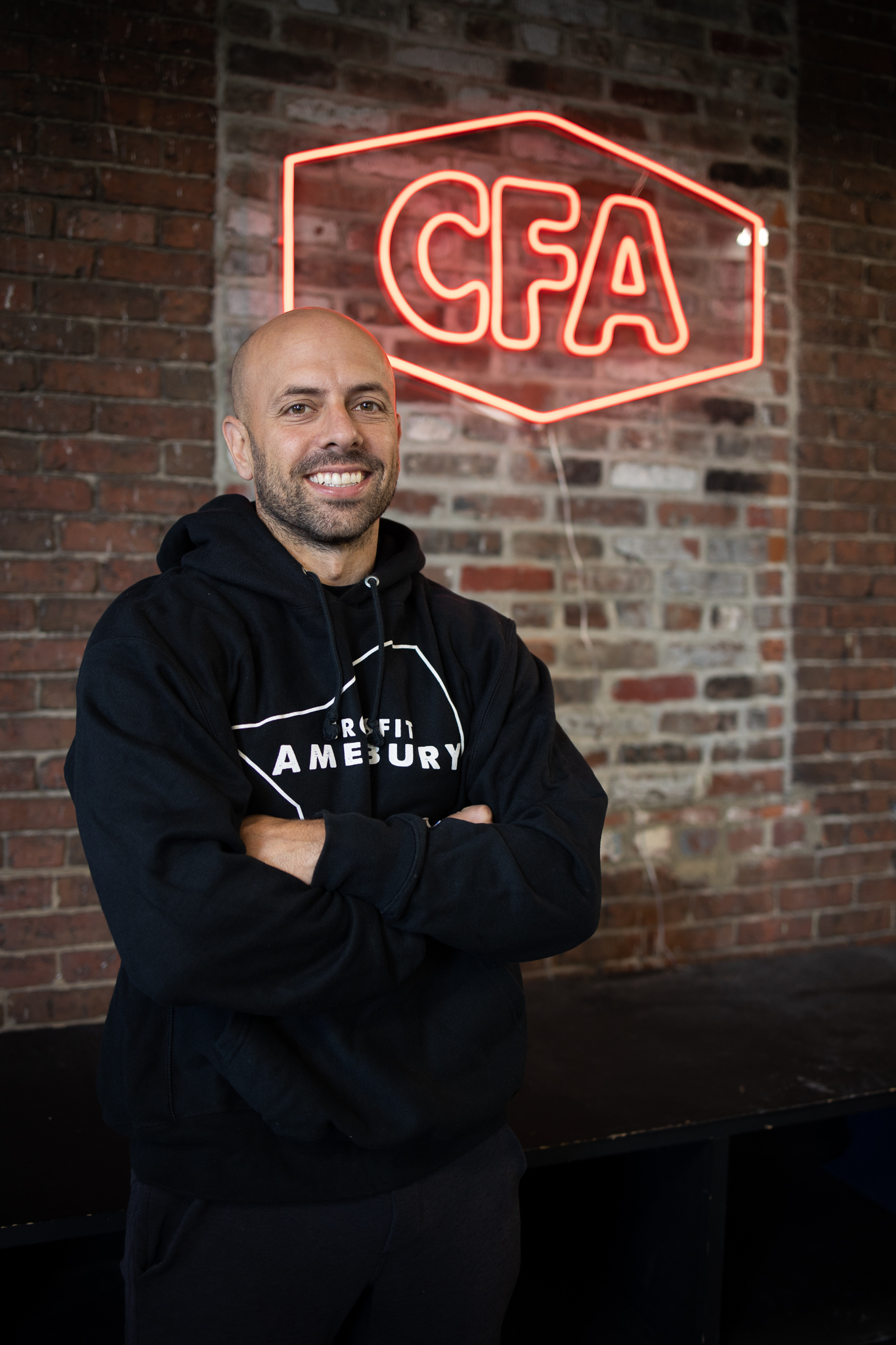 Jared Monaco
Co-Owner & Coach
Jared is a co-owner of CrossFit Amesbury and head coach and owner of CrossFit Route 1. As a college athlete at Endicott College, Jared played varsity soccer and was appointed captain his senior year. He also played lacrosse at the collegiate level. After graduation, Jared continued to play soccer at the semi-professional level. It was during this time, Jared began coaching.
Certifications
CrossFit Level 2
CrossFit Coaches Prep
CrossFit Oly Lifting
CrossFit Movement and Mobility
Certified in Kettlebells (KBC)
Interests: Love playing with my kids, building legos with my boys, and playing any sports.

What's the most inspiring part of your job? Being able to teach someone how to do something they never thought possible.

Why CFA? Being able to help educate about movement and nutrition to such a large community.

Superpower? I would love to be able to fly.
Favorite WOD? My favorite workout is anything without running and thrusters.
Favorite Quote? "Talent wins games, but teamwork and intelligence wins championships."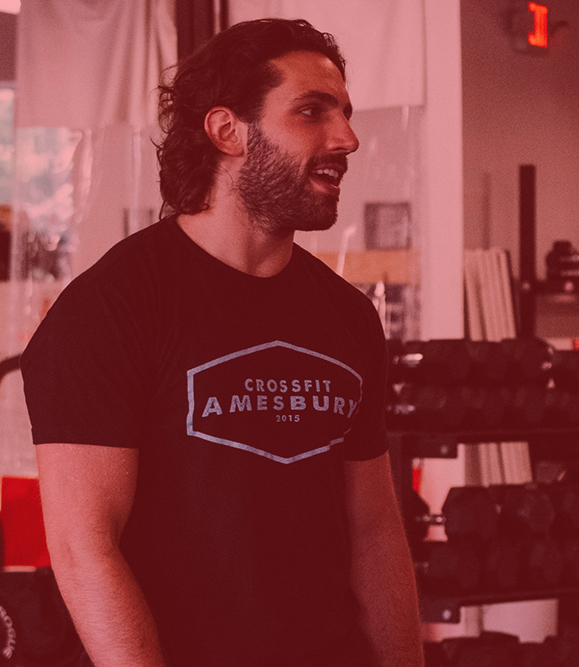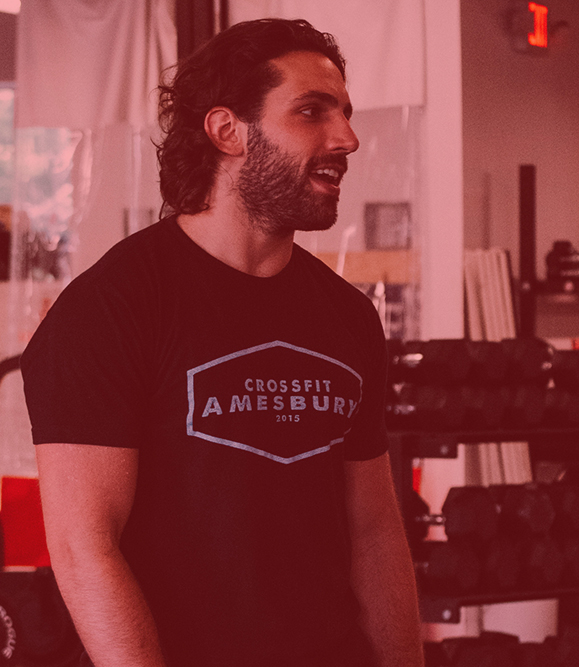 Derek Clark
Coach
Derek started CrossFit in 2015. Derek had always played sports: football, basketball and lacrosse in high school and lacrosse in college, so pursuing a bachelor's degree in exercise science made perfect sense. He had an internship at a gym in Woburn coaching sports-specific strength and conditioning and they happened to also run CrossFit classes. Derek tried one class and was immediately hooked. The community and the competitive nature of CrossFit reminded him a lot of all the sports teams he's played for over the years and he loved that. Derek immediately started a second internship at the same gym but this time as a CrossFit coach and he's been doing it ever since.
Certifications
CrossFit Level 2
CrossFit Level 1
B.S. Exercise Science
Interests: I'm always with my dog, Gunner. In the summertime anything outdoors: beach, camping, hiking, etc. In the wintertime I mostly watch movies, eat chicken wings, and hangout with friends.

What's the most inspiring part of your job? Helping people do things they didn't think they were capable of doing.
Why CFA? The people. This is the most welcoming, fun, friendly and hard working community, which makes me want to work hard and do everything I can to help them achieve their goals because they deserve it.
Superpower? I love me some barbell so super strength. Flying would be cool too.
Favorite WOD? DT
Favorite Quote? "Our deepest fear is not that we are inadequate. Our deepest fear is that we are powerful beyond measure. It is our light, not our darkness, that most frightens us. Your playing small does not serve the world. There is nothing enlightened about shrinking so that other people won't feel insecure around you. We are all meant to shine as children do. It's not just in some of us; it is in everyone. And as we let our own lights shine, we unconsciously give other people permission to do the same. As we are liberated from our own fear, our presence automatically liberates others."
-Maya Angelou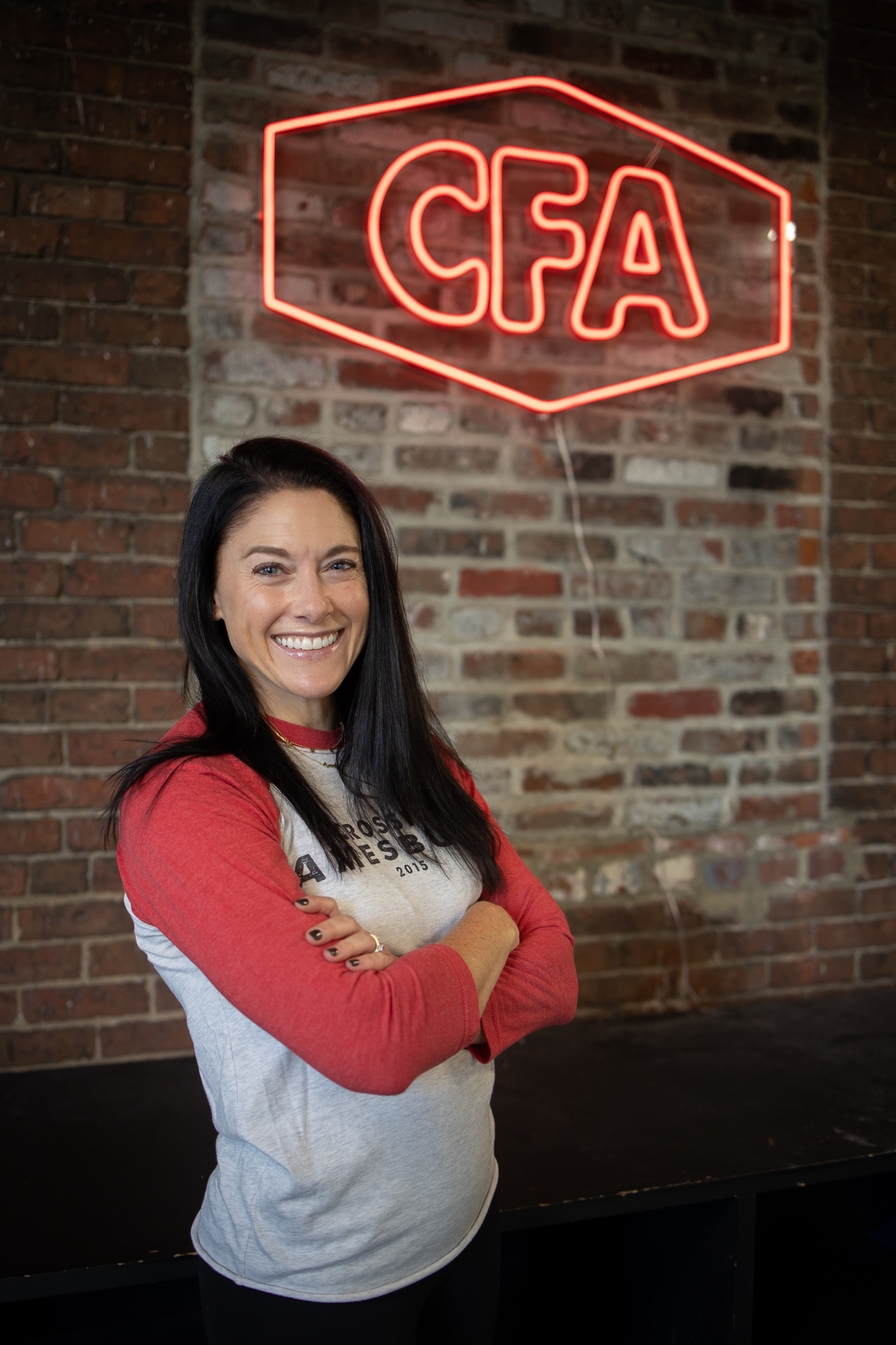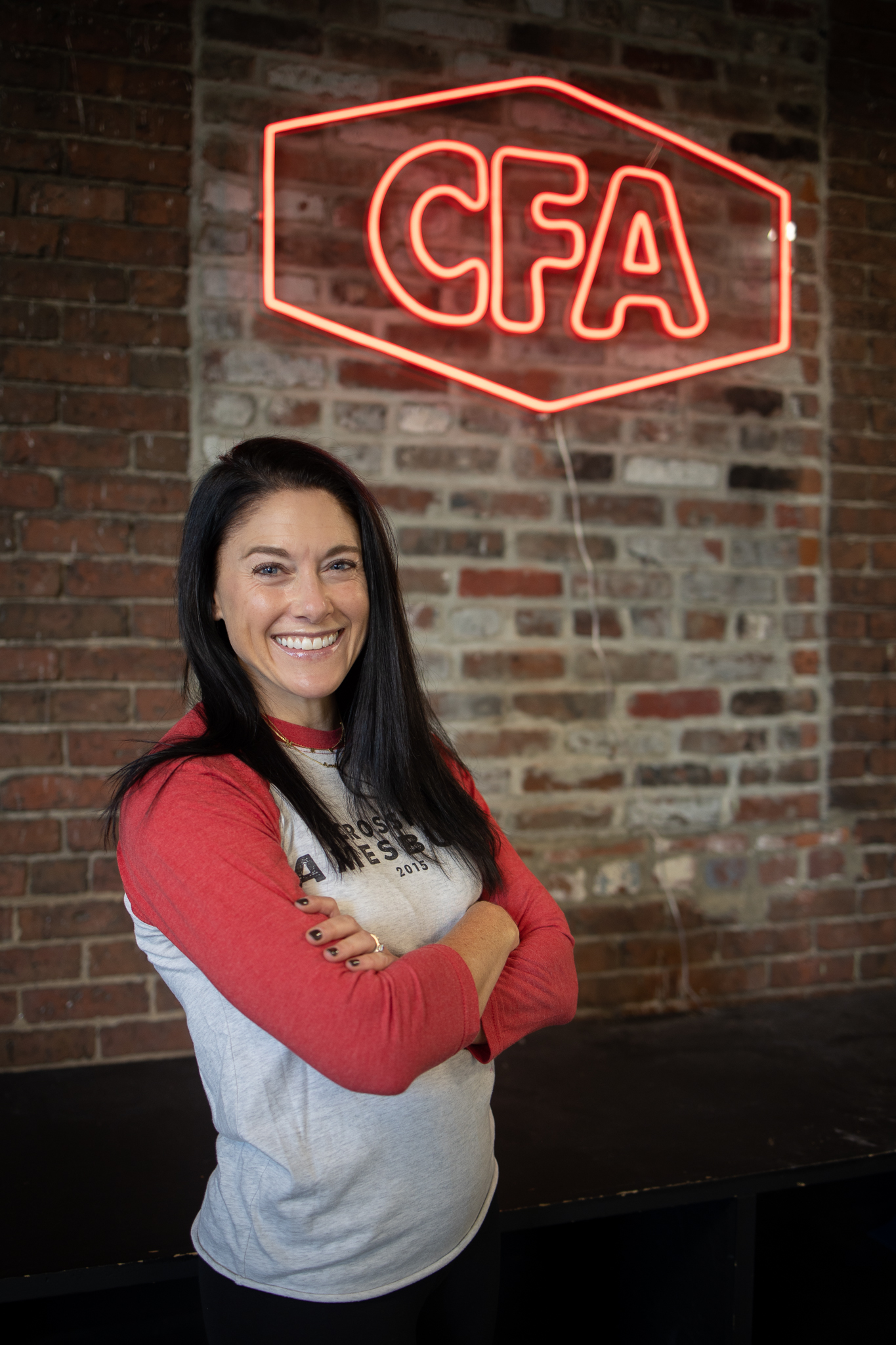 Emmy Monaco
Coach
Emmy started CrossFit in June of 2010 at CrossFit Rte 1 in Saugus; she had been a spectator at what was then called the Northeast CrossFit Regionals and watched her brother-in-law Jared compete with his team. She saw all the athletes and thought to herself, "I can do that." Emmy wanted to be a coach to interact more with the members and coach them in the ways she felt were beneficial to her when she was learning the ropes of CrossFit. She has a bachelor's degree in a early Elementary Education and holds her Level 1 CrossFit certification. Emmy also holds a Level 1 training in Yogafit.
Certifications
CrossFit Level 1
Yogafit Level 1
Interests: Spending time with my family and friends, reading, cooking new recipes!

What's the most inspiring part of your job? When someone I coach or train makes great strides in a particular movement or with their training in general; when that person can recognize that all their hard work has paid off and can be proud of him/herself.

Why CFA? CFA is incredibly special to me because it's centered around families and not just individuals. I love that kids,in particular in MomStrong classes, get to see their Moms and sometimes their Dads work their butts off to get fit. What a great example to set for their kids!
Superpower? I don't necessary desire one particular superpower; just want to be Wonder Woman…I have wanted that my whole life!
Favorite WOD? I love "Murph" and who it honors and what it stands for. I'm always honored to participate in that workout every Memorial Day.
Favorite Quote? "And though she may be little…she is fierce."-Shakespeare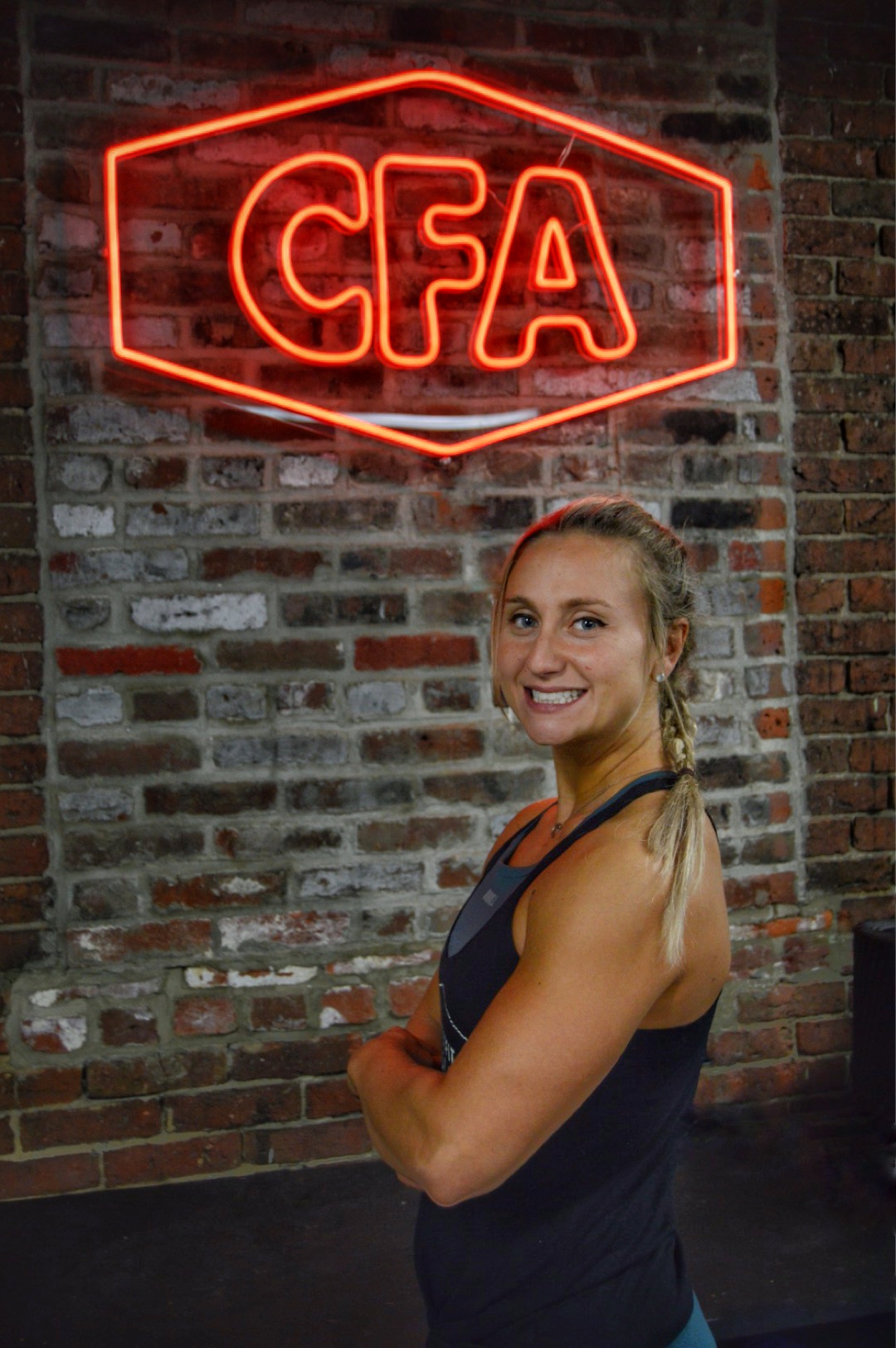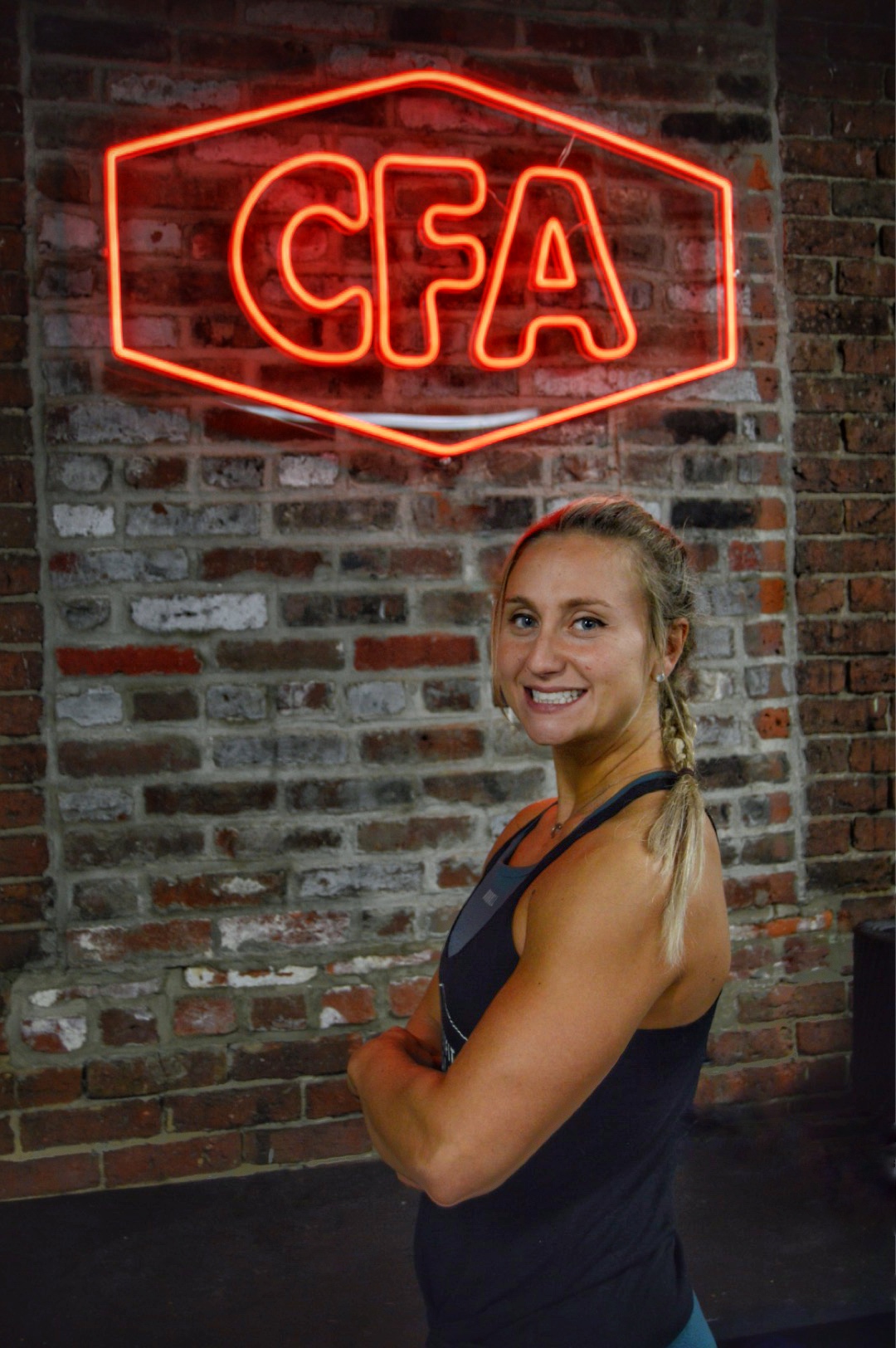 Addison DesRosiers
Coach
Addison discovered CrossFit in 2015 while attending American University in Washington, D.C., where she graduated with a bachelor's degree in Health Promotion. Addison wholeheartedly believes in the CrossFit methodology and wanted to help others in the same way it helped her.
Addison decided to make CrossFit a full time career after graduating and never looked back. Since then, she has had the pleasure of managing and coaching CrossFit gyms in New Hampshire, Virginia, and most recently, Omaha Nebraska.
Since 2017, Addison has also competed in CrossFit in both individual and team  events. In recent years, she has competed at the MACC CF Games Semifinals, the Atlas Games, and Wodapalooza, Miami. Competing has given her a unique perspective on the sport and has taught her so many valuable life lessons.
Certifications
Crossfit Level 2
Crossfit Level 1
Crossfit Gymnastics
Crossfit Powerlifting
Crossfit Kids
Interests: I enjoy anything outdoors with my dog, Murph (especially in the summertime) I also enjoy cooking simple and healthy recipes!

What's the most inspiring part of your job? I love the connection I am able to form with my members and having a hand and front row seat to their unique and inspiring fitness journeys. There is nothing more rewarding than to see the "aha" moment where it all clicks for someone. I love being able to see the pride and excitement on their faces when they hit a big PR, or get their first muscle up they've been working towards for so long. In those moments, I feel most blessed to be where I am and to do what I do.

Why CFA? The members at CFA are what make it truly what it is: a warm, welcoming environment where egos are always checked at the door. It is a safe space for anyone and everyone. No matter where you are in your fitness journey, how old, young, or fit you are, there is a place for you here.
Superpower? 360 degree vision! Over the years I have learned how to spot technique faults even out of my peripheral vision so I can help more people. I have eyes everywhere!
Favorite WOD? DT
Favorite Quote? "You didn't come this far to only get this far."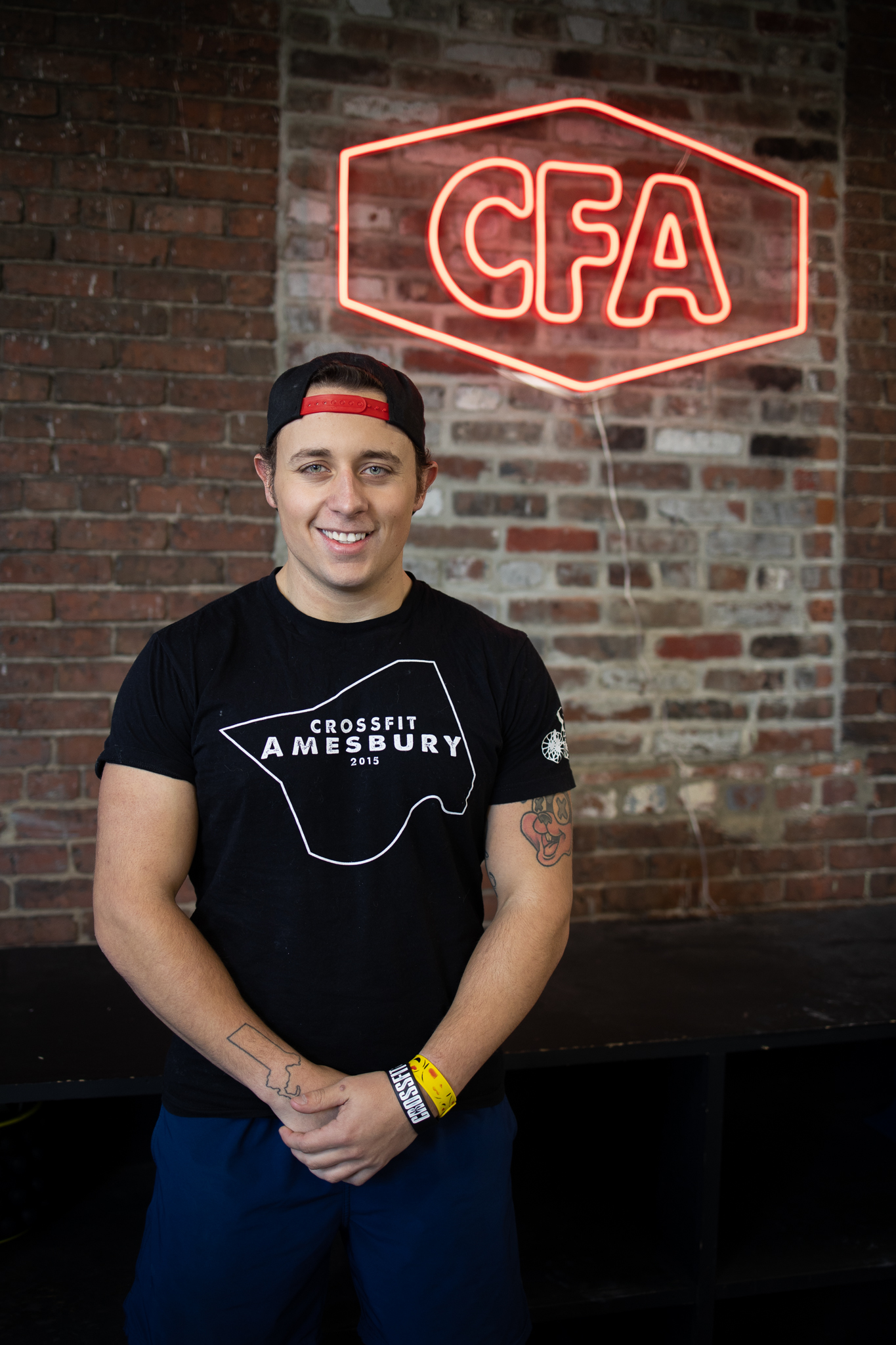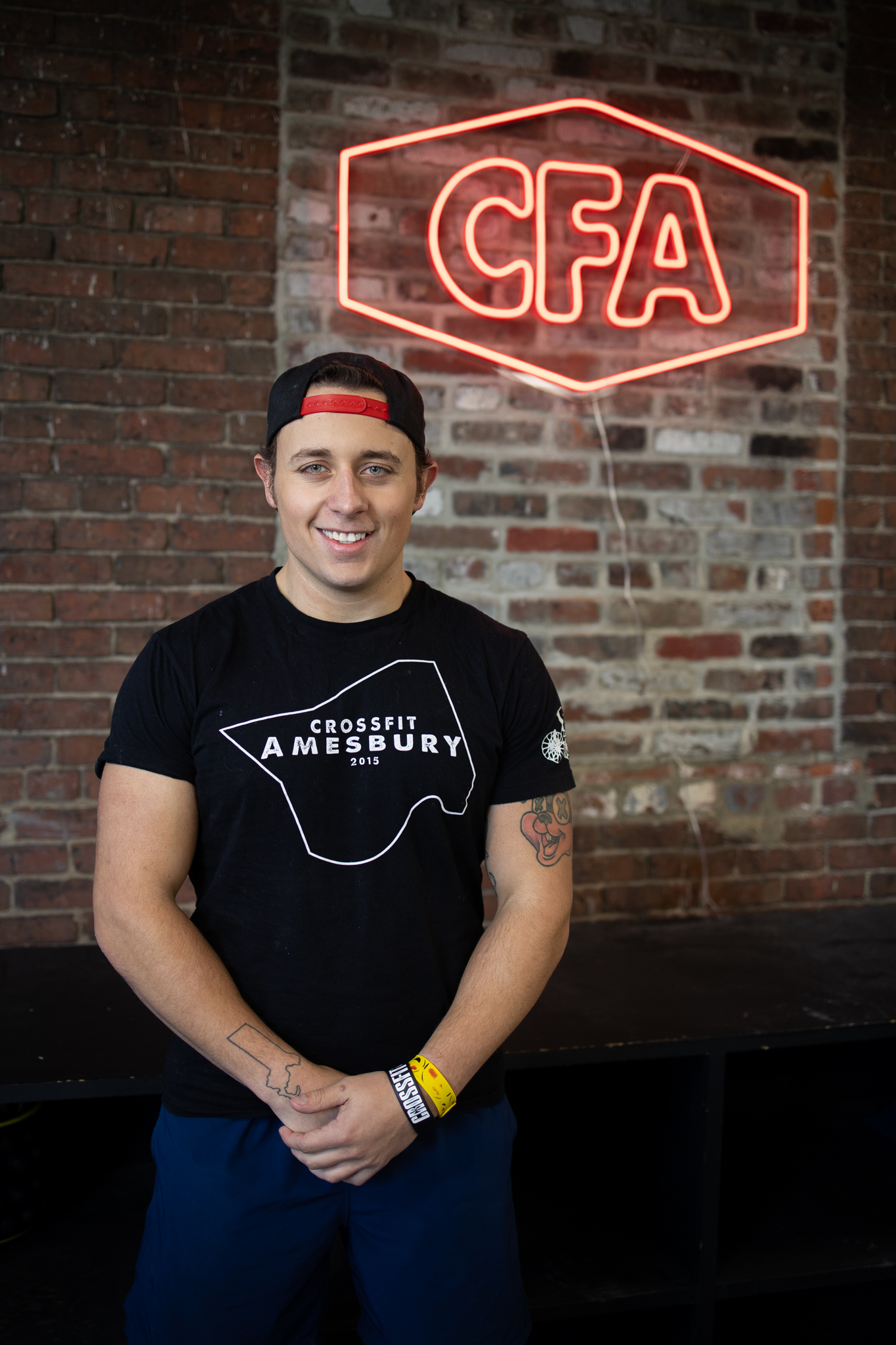 Branden "Bwowo" Woitunski
Coach
Branden started CrossFit as an unhealthy teen that hated working out. He slowly lost weight and eventually began to love fitness and CrossFit. After finding his love for fitness, Branden realized that working in this type of environment is like a dream job. He attained his CrossFit Level 1 certification and tried to learn as much as he could about coaching. He has found a love of coaching people and watching them become better versions of themselves.
Certifications:
Crossfit Level 2
Crossfit Level 1
Interests: Music, mixed martial arts, podcasts

What's the most inspiring part of your job? Watching people that have little confidence build it up over time and break through barriers they didn't think they could get through.

Why CFA? I grew up here. I have been here since I was 15. This community has had its changes but I've been here through most of it.
Superpower? I would love to read people's minds.

Favorite WOD? Fran
Favorite Quote? "There's no talent here. This is hard work. This is an obsession."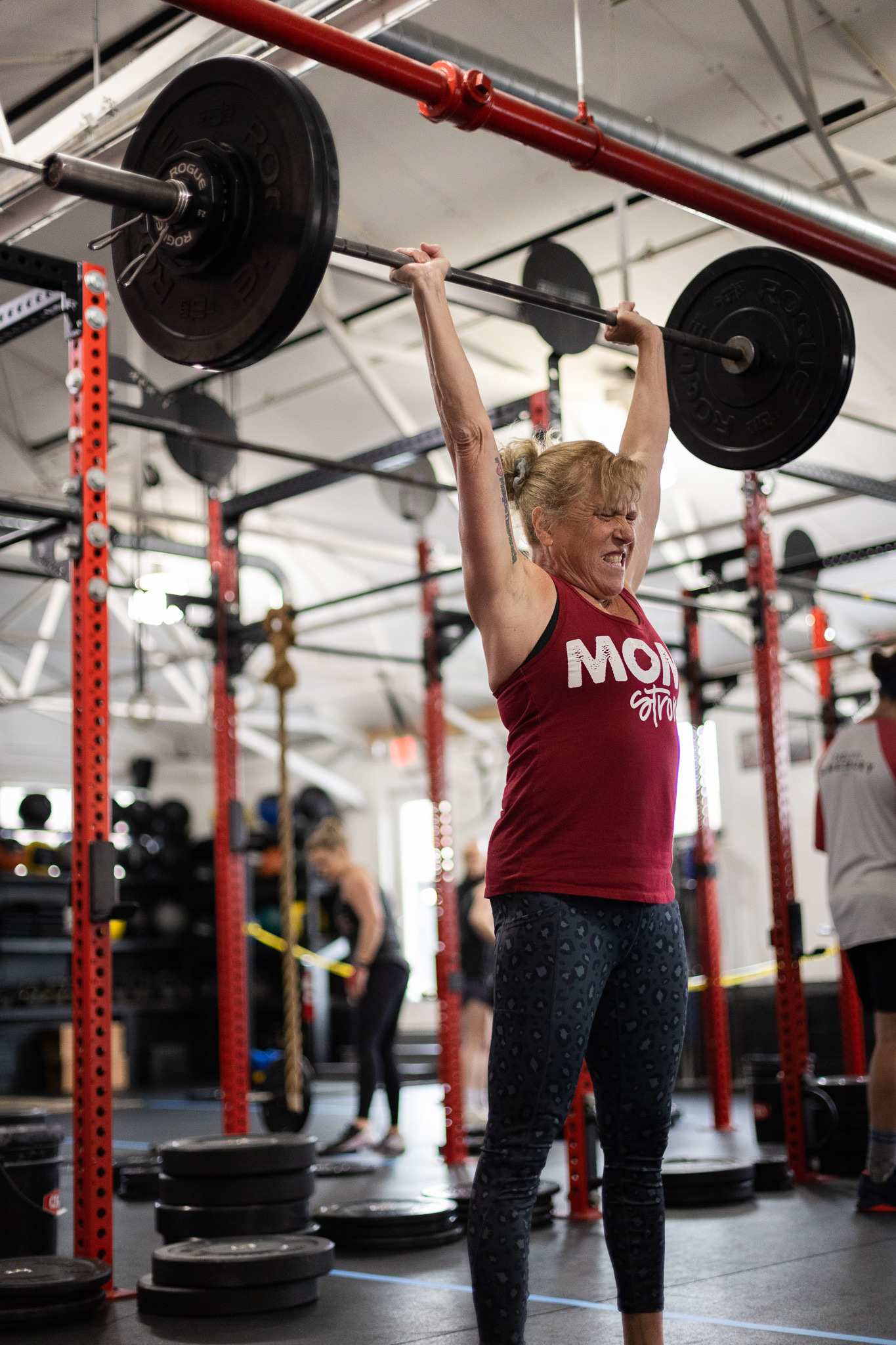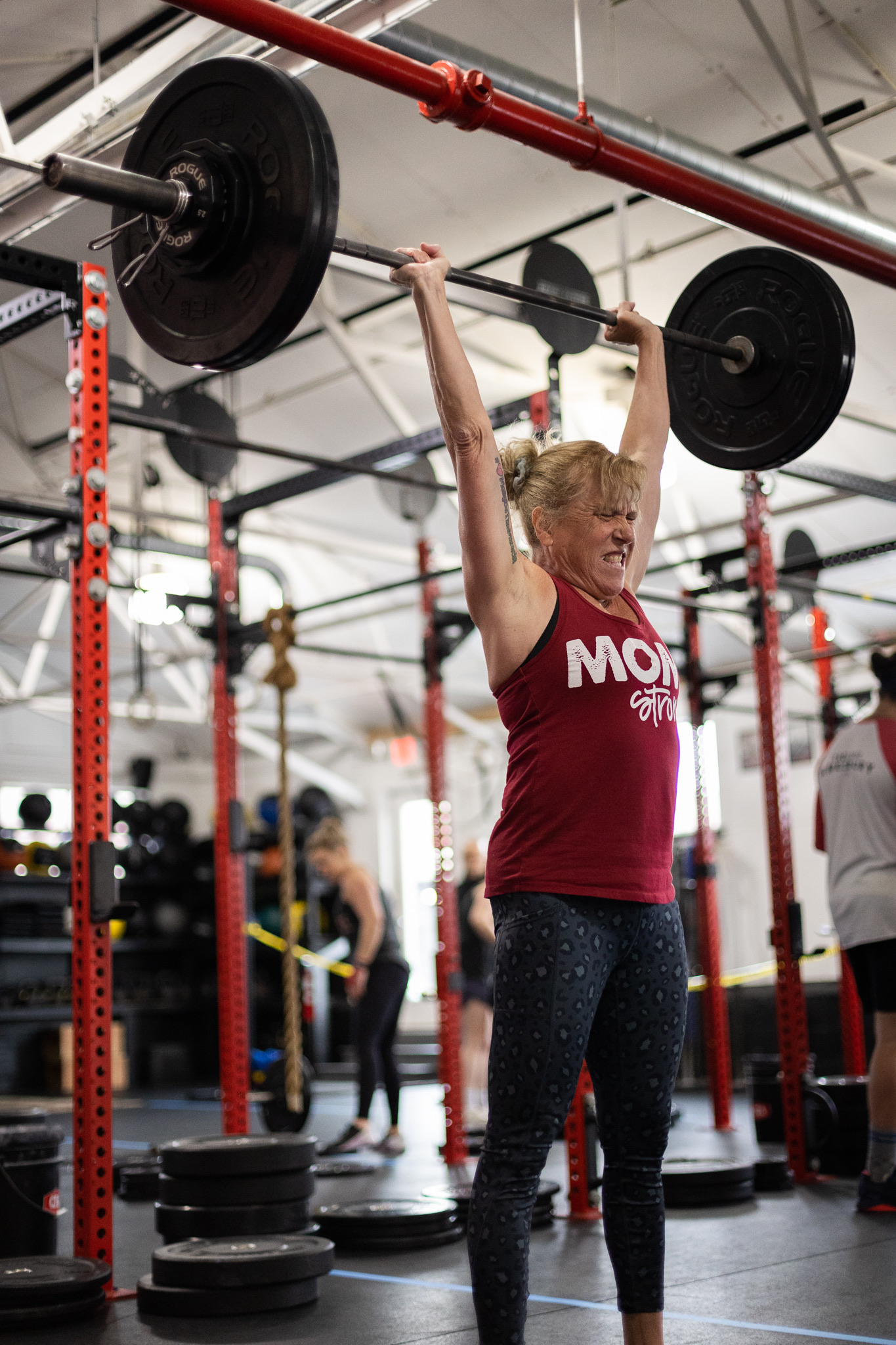 Barb Higgins
Coach
Barb came to CrossFit in 2011. She immediately loved the competitive aspect as well as the age range of participants. As a Health Educator and longtime distance running coach, Barb also loves the class structure and inclusivity. She was a Division I All American at Boston University in Track & Field in 1983 and is also a mom to Gracie and Jack.
Certifications:
CrossFit Level 1
USATF L-2 C2 Rowing
NH Certified Elementary/Special Ed, PE and Health K-12
Adaptive PE K-12
Interests: Creating activities for children, writing, podcasting, tap dancing, hiking, all things Disney

What's the most inspiring part of your job? Watching people achieve things they thought they couldn't do. Creating a positive class atmosphere especially by successfully scaling so everyone feels successful.

Why CFA? In my 11 years in this sport, I have never experienced a gym as inclusive, supportive, and welcoming as CFA. The variety of classes is unparalleled! CFA exemplifies the best of CrossFit.
Superpower? I'm very good at getting back up after a fall. I am tenacious. My pain threshold is my secret weapon!!

Favorite WOD? 12 Days of Christmas, Pain-storm, Murph, Filthy Fifty
Favorite Quote? "It's supposed to be hard! The hard is what makes it so great. If it was easy everyone would do it!" -Tom Hanks in A League of Their Own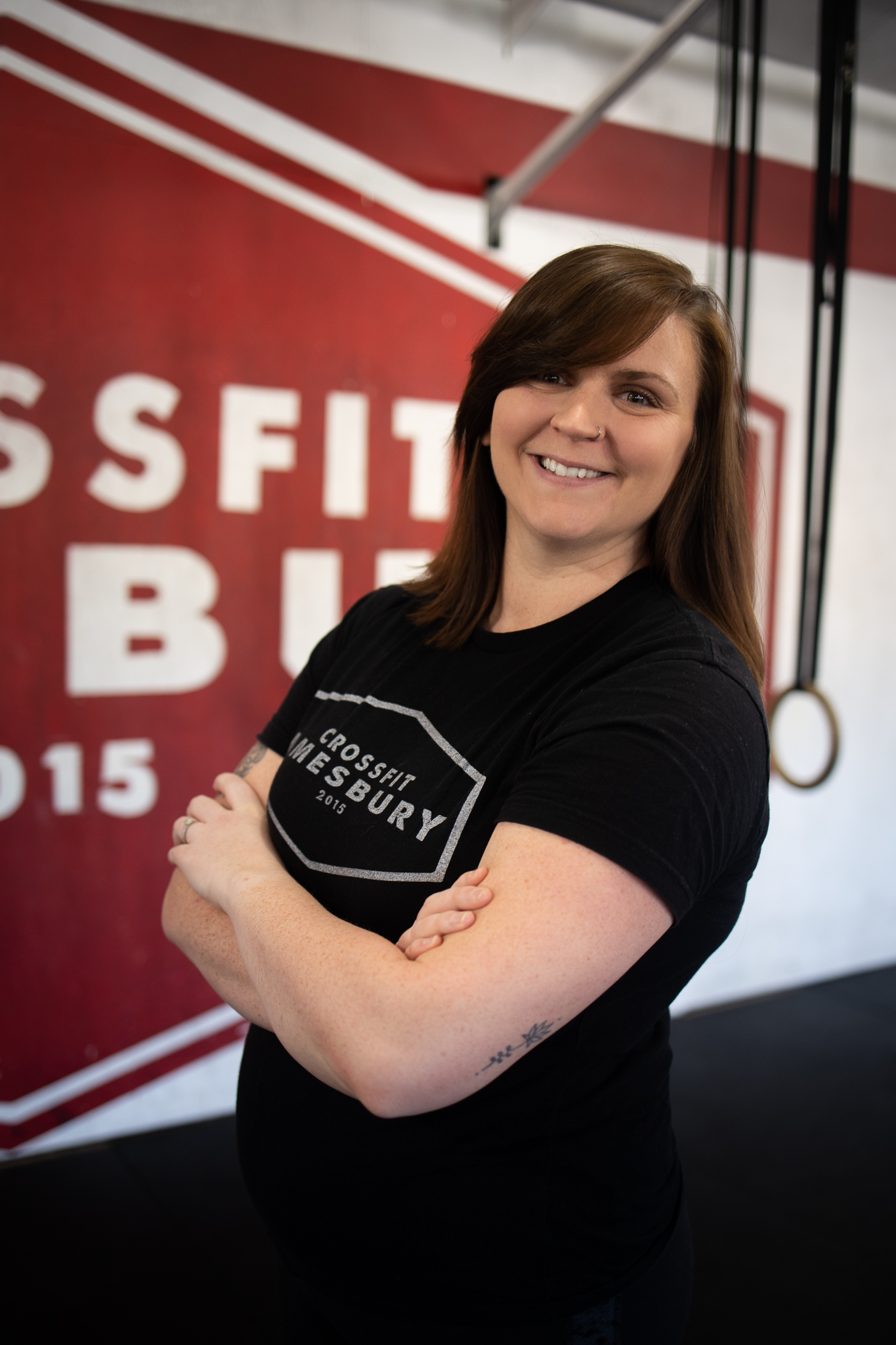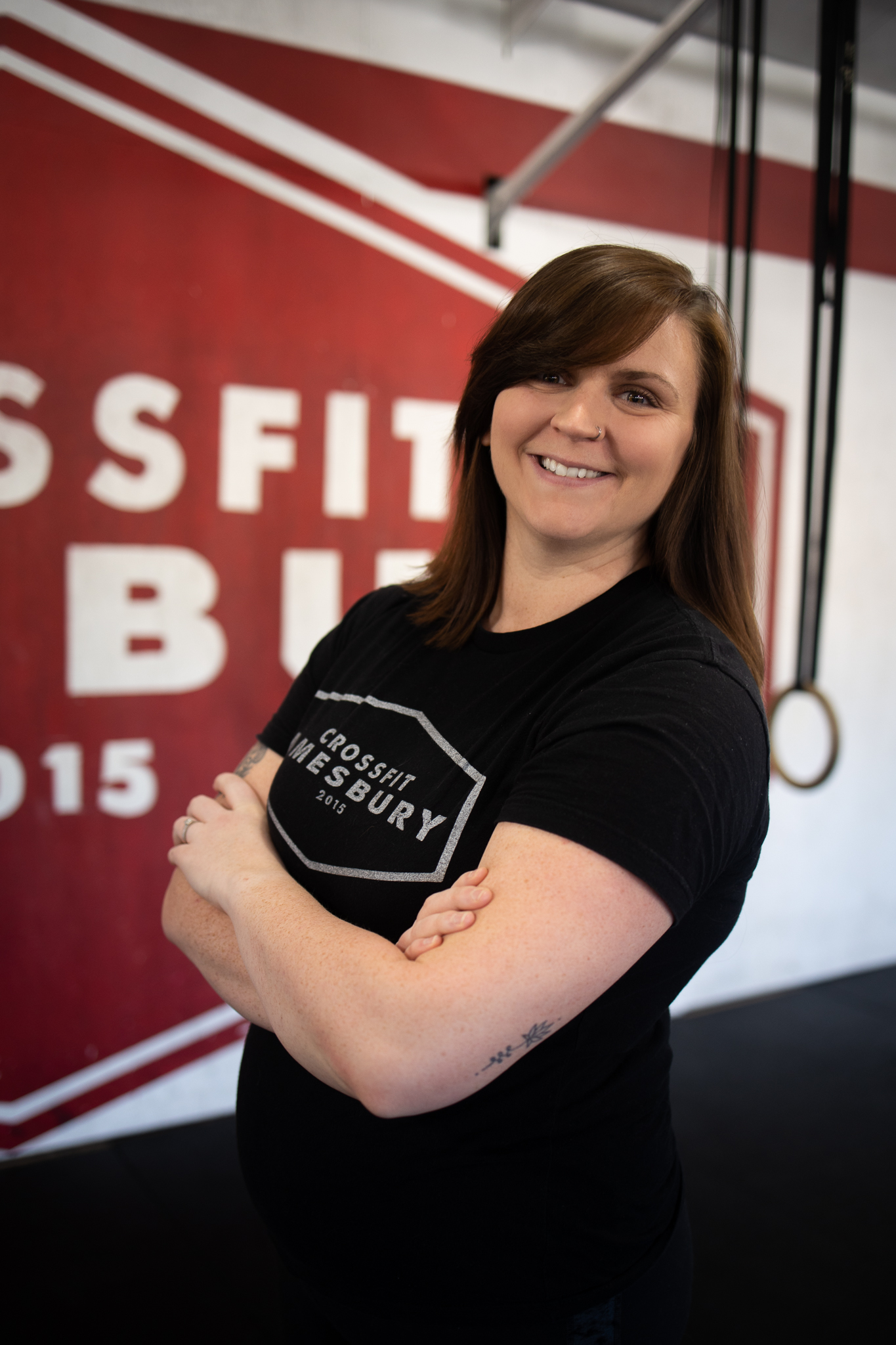 Kayla McElroy-Brown
Yoga Instructor
Kayla's journey with yoga began in 2015 when she attended her very first class. It was the missing puzzle piece in her wellness journey. After years of being a student, Kayla decided it was time to become certified. She took a 200-hour course, graduated in April 2019, and has been teaching regularly ever since.
In addition to being a yoga instructor, Kayla is also a Reiki practitioner and holds a degree in Biology, so she has a deep understanding of anatomy, body mechanics, and movement of energy.
Kayla has been a member at CrossFit Amesbury since February 2018. She understands the intensity of the sport and the influence it can have on muscle tension at times. That's why she makes sure all of her classes focus on slowing down to connect with the body and breath and invite deep stretching to restore muscles and release fascia. Not only can it bring relief after a week of strenuous workouts, but it can positively impact days in the gym by increasing body awareness and flexibility.
Certifications:
Yoga (RYT-200)
Interests: Reading, spending time with my family, self care, drag queens
What's the most inspiring part of your job? Just knowing that I have a small part in someone's healing (physical or emotional) is very humbling. To be a safe space for athletes to slow down and listen to their bodies on a deeper level is an honor.

Why CFA? The community, hands down. Every new member is welcomed with open arms, no matter what class or what coach. We are all here to support each other and lift each other up every day.
Superpower? If I could have one superpower it would be to change the status of something by pointing at it; like pointing at my clothes and a totally different outfit appears. I basically want to be an upgraded Matilda.
Favorite WOD? Grace
Favorite Quote? "I suggest we learn to love ourselves before it's made illegal."